So Montreal's Reseau Express Metropolitan (REM) has been under construction since 2016. It's probably the single biggest rail project in Canada right now in scale, if not dollar value, but has been surprisingly quiet despite the impact it will have to the region.
A short rundown on the stats:
Total length: 67 km
Number of stations: 26
Frequency (peak/non-peak): 5/15 mins (2.5/5 mins for downtown tunnel)
Operating hours: 5 am - 1 am, 7 days per week
Max Capacity: 780 people per 4 car trainset
Projected ridership: 200,000/day
Cost: 6.3 Billion CAD
Some selling points:
Fully grade separated!
Driverless trains!
Network-wide Wifi!
Seamless transfers to Bus/Rail/Metro!
Platform Screen Doors!
The network will be opened in phases from 2021-2023: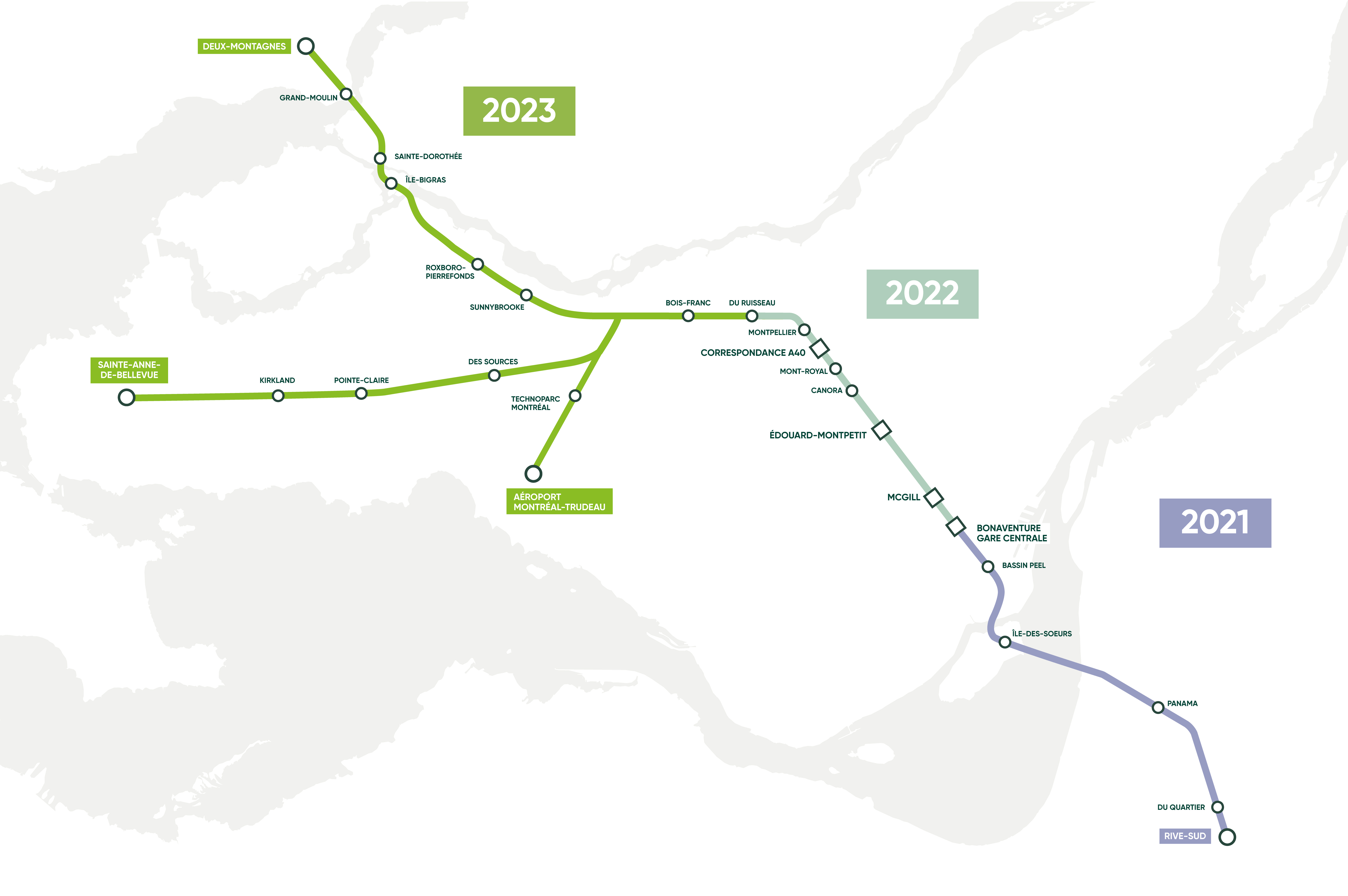 The REM is Montreal's answer to the 'missing middle' option between regional commuter rail and urban metro service. While it is referred to as light rail in both official and press media, it and the Skytrain are more properly defined as 'Medium Rail Transit' systems. The system length is some 67 km long at full buildout, comparable to that of the entire Skytrain network prior to the Evergreen extension opening, but with around half the number of stations at 26. This shouldn't come as much of a surprise as the REM is, at its core, a conversion of commuter rail to metro operations.
Schematically, the REM comprises the following:
- The 31 km Deux-Montagnes trunk line, a conversion of the existing commuter rail line of the same name, as well as the Mount Royal tunnel through downtown;
- The 15 km South Shore branch, which is a new-build extension of the trunk line from Central Station to the South Shore suburbs and crossing the St. Lawrence River on reserved lanes in the new Champlain bridge;
- The 16 km Saint-Anne-De-Bellevue branch, which resurrects the Doney spur line to provide metro service to the West Island suburbs; and
- The 5 km Airport branch, a new-build spur to YUL.
The trainsets are the driverless Alstom Metropolis sets, the same type used in the Sydney Metro (another commuter-to-metro conversion of similar scope), but in a four car configuration rather than Sydney's six (two cars during non-peak). The system will be constructed to handle future increases in capacity and frequency to suit ridership demands and is also the biggest P3 project in Quebec's history at 6.3 billion dollars. The contracts are split into two main packages, EPC for construction/design and TSSOM for operations/maintenance; both were awarded to consortiums led by SNC-Lavelin.