(Note-this thread is not intended to rehash any other thread, this is to discuss a specific, unique, proposal.)
Preamble
Edmonton's trolley fleet is obsolete. Edmonton's trolley lines are underutilised. Edmonton's trolley system isn't well enough integrated into the grander ETS scheme.
All true.
Trolley technology is better for the city's health than any other bus technology except solar provided hydrogen fuel cells. Trolley technology can serve high density routes more cheaply than any other bus technology. Trolley fuel can be (and is) provided by a wider range of primary inputs than any other bus technology. Trolley technology is at worst second quietest among bus technologies. (second to pure battery/capacitor power only.)
Also true.
(I am obligated to add, if you wish to dispute any of the above, please consider reading a previous thread on the topic. The intention of this thread is to discuss the specific proposal outlined here.)

In response to this situation, other C2E members have advocated simply scrapping the system. Here, I will outline another approach we may consider. I won't go into much depth with this post though.
-----------
The basic plan:
first upgrade the fleet to the highest existing standards as soon as possible, and second, rationalise the trolley network.
-----------
The new fleet:
- 50 or so single articulateds, with battery and diesel backup systems, as well as GPS for realtime scheduling and traffic priority signaling.
Maybe something like this: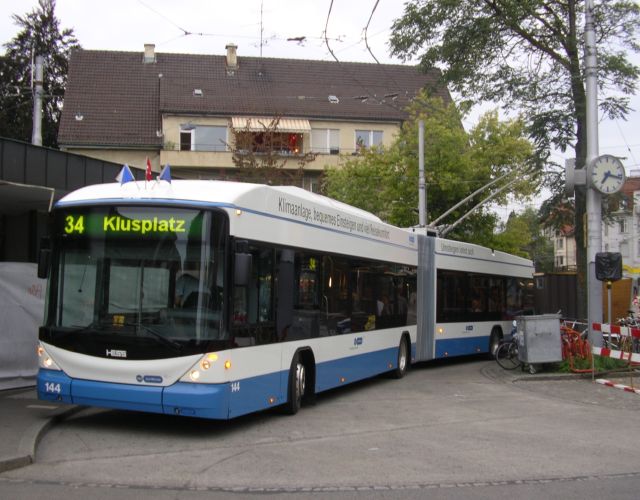 - 10 or so double articulateds with the same features, plus a second powered axel for greater traction control in difficult road conditions.
Justification:
unlike the current fleet, these busses come off the power lines less often, don't need to stop in traffic if they do come off the lines, can make virtually any neccessary detour with very little problem, are more fuel efficient as they can do regenerative braking, would be far more comfortable (especially psychologically, as they aren't only not embarassing, but maybe even exciting), and are big enough to make a good dent in traffic. For comparison: The double articulateds can carry about as many people as a single LRT car, (around 200 maximum, including standees).
-----------
The new system:
Legend:
Heavy lines: LRT lines
- Pink: existing or under construction surface track.
- Yellow: existing underground track.
- Red: future LRT possibilities.
Thinner lines: Trolley lines
- Blue: existing lines to keep.
- Orange: existing lines to remove and reconstruct elsewhere.
- Cyan: proposed new lines.
Dots: Traffic sources or destinations
- Dark green: existing.
- Light green: potential (in most cases TODs, except the U of A South Campus and the YXD land.)
Justification:
Trolleys become more and more economical when they are used a lot, basically because most of the cost is one-time up-front. Putting them on routes to Northgate (via NAIT, Kingsway, Victoria School for the arts, and the Royal Alec hospital), WEM, and Millwoods would let them get a lot of usage. Also having them on a loop connecting Jasper and Whyte keeps them around the areas with the highest population densities in the city, and the most attractions, thus with a high potential for ridership, plus the greatest possible health benefit would be found here as well.
Trolley lines can be built much more quickly and cheaply than rail systems, and thus they could make a quicker impact not only on traffic but city development (opening more potential TOD sites, bringing more people downtown).
For the line I suggest could be dismantled: as LRT will soon hit Southgate, it may make the trolleys going there redundant. LRT have basically the same good points, but to higher degrees. We could then do likewise with the Millwoods trolley line, WEM trolley line, and Northgate trolley line, and then redeploy the infrastructure on new developing traffic sources and destinations around the existing city area.
-----
That's the basic idea. Thoughts?