Edmonton International Airport (EIA) has experienced a growth rate that has been amongst the highest in North America over the last few years. This is often attributed to the airline's attraction (or lack thereof) to Edmonton; some might even say this came about through great airport marketing and solid operations, but the true fact is…it is the Edmonton community that has chosen its air service, creating unprecedented growth.
For the majority of C2E members this will be a well understood concept, however for others the thought that Edmonton may actually be in charge of both its level and its variety of air service is sheer heresy! To truly get a sense of the notion that it is a community that chooses its air service, we need to look at the decision making process for air service development and factor-in the dynamics of the Edmonton market that are working for and against us. I will touch on five points that will hopefully help clarify:
1) Airlines make decisions with data
Air travel data is readily available in our industry and airlines make full use of it to make decisions on where they fly and how often. If the data does not demonstrate a community's need for non-stop air service in sufficient quantities there simply will be no non-stop air service. Even if there happens to be sufficient demand for a non-stop service, airlines for the most part operate a hub and spoke pattern and will prefer moving traffic via a hub or connection point. Demonstrating a compelling economic case to airlines with solid demand data is central to the air service development process.
Important to remember it's not whether an airline can make money on a route… it's what route can they make the most money on that's key.
2) Market Leakage – an Edmonton legacy
Reducing market leakage from Edmonton has been the mission of the team at EIA since day one. The rationale being, why would an airline choose to fly to both Edmonton and Calgary in equal quantities when they can focus service in Calgary and let Edmontonians come to them. Market leakage whether it is via a connection over Calgary or via the QE2 highway, is a serious limiter to Edmonton's air service. The graph below is built with International Air Transport Association (IATA) data and shows the trend of drive leakage between Edmonton and Calgary. The red line is the percentage of tickets sold in Edmonton with a point of departure from Calgary. The shear amount of leakage has declined over time from its peak at slightly above 35% to where it now sits at around 21%. Progress is good and airlines are beginning to notice that Edmontonians are choosing to buy and fly from Edmonton in greater numbers than ever.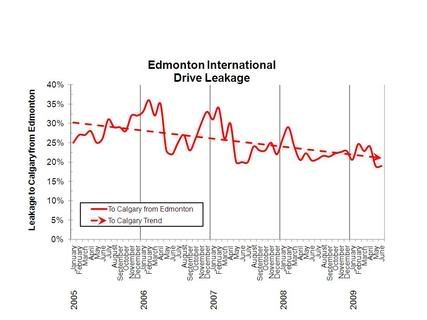 Again while the trend is good we still have a lot of potential. We currently have between 750,000 to 850,000 Edmontonians per year making the drive to Calgary…
this number could support the equivalent of approximately seven daily B767 flights from Edmonton.
The lost economic opportunity for the citizens and businesses of Edmonton is huge and we are essentially giving away our non-stop air service seats to Calgary!
3) Routings matter
Airlines steer traffic through their alliances and frequent flyer programs which sometimes create lower cost routings via Calgary or another airline alliance gateway and away from non-stop or high value routings for Edmontonians. While this may be good for airline efficiency it is not always in the best interest of Edmontonians and demonstrating demand for non-stop flights. Some common itineraries that Edmontonians will buy to get their "points" or to save a few dollars when a non-stop flight is available from Edmonton include:

4) Airline Yields – the great equalizer
Large traffic volumes don't always merit new or continued air service as the prices a community is willing to pay for an airline ticket are often a larger contributing factor. Edmontonians are often faced with a decision to buy fares for a non-stop flight versus a connecting flight via Calgary or worse, driving to Calgary to take advantage of a lower fare. The more Edmontonians that choose to pay a slight premium for the convenience of flying non-stop, the more profitable Edmonton is for airlines – it's a business after all. This sets up a promising air service development situation for airlines where they can get higher loads and higher yields from Edmonton they have proven they will take the opportunity to add more air service.
5) Use it or lose it – a reality
EIA dedicates a great deal of time pitching and utilizing creative incentives to demonstrate to airlines that the community actually wants and will use new air service. However it is ultimately up to the community to support the service once it begins. Continental Airlines will re-start Houston service next month after a three year absence and while it is true the Edmonton market has grown substantially since they left in 2006, there is much skepticism that the Edmonton market has matured enough to support the service. But the data clearly showed that Houston was Edmontonians number one priority un-served destination (Frankfurt aside!). Houston drive market leakage to Calgary has hovered around 50% since Continental's departure in 2006 and the other 50% that actually flew from Edmonton, represented our largest connection market via Calgary. Here's our fear – if this trend continues and Edmonton chooses not to use Continental by connecting or driving to Calgary, then their return will be short-lived and our reputation as a strong supporter of airlines will definitely be hurt.
Edmonton is enjoying the best air service in its history, but we know there's even more opportunity for us. It is important to remember that every time you fly you vote for air service in a community - we want you to vote for Edmonton. During tough economic times Edmontonians choosing to support the airlines that have made the decision to serve our community is more critical than ever, as airlines will go where they can make a profit and where they are welcomed and supported by the community.
In other words for airlines to choose Edmonton...Edmontonians must first choose our airlines.
Thank you to C2E for continuing to present this message through your online discussions and to your networks.
Peter McCart
Vice President, Marketing and Business Development
Edmonton International Airport