Lieutenant-Colonel T. Bradley, CD
Base Commander, Canadian Forces Base Edmonton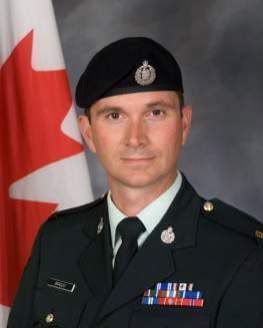 Born in Iserlohn Germany in 1968, Lieutenant-Colonel Bradley joined the Canadian Forces in 1986. Graduating from Royal Roads Military College in 1990, he completed his Armour Officer Phase training at Gagetown and was gazetted to his regiment, Lord Strathcona's Horse (Royal Canadians) in Calgary, Alberta.
Following various appointments within the Regiment and Headquarters 1 Canadian Mechanized Brigade Group, Lieutenant-Colonel Bradley was posted as an Instructor at the Canadian Forces Officer Candidate School, and later as a Tactics Instructor at the Canadian Forces School of Mechanical Engineering.
His return to Regimental Duty included a tour in Bosnia and the appointment as Regimental Adjutant. For these privileges, Lieutenant-Colonel Bradley was then sentenced to a posting in Ottawa, within the Deputy Chief of Defence Staff's, Chief of Joint Operations Section. Returning to Regimental Duty as the Officer Commanding Reconnaissance Squadron Lieutenant-Colonel Bradley deployed to Afghanistan with his Squadron for a six-month tour of duty in January 2002 as part of Canada's first commitment of forces to that nation.
Upon completion of this Regimental tour he was posted to National Defence Headquarters in 2003 where he was employed in the offices of the Minister of National Defence and Chief of Defence Staff. Returning to Edmonton in 2006, Lieutenant-Colonel Bradley was appointed as the Brigade Operations Officer where he supported force generation of troops for combat operations.
Somehow in all of this he managed to write himself into a job on deployment and spent nine-months as the Chief of Operations for Task Force Kandahar. More recently he has served as the Chief of Staff, 1 CMBG in Edmonton.
He holds a Bachelor of Arts in Military and Strategic Studies, Political Science and Economics concentration, from Royal Roads Military College and is a graduate of the Canadian Forces Command and Staff Course. He is the recipient of the United States Army's Bronze Star and Canada's Meritorious Service Medal.
Lieutenant-Colonel Bradley is married to Carla and is the proud parent of three children.